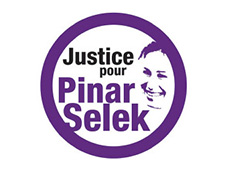 With three weeks to go before the new court hearing in Istanbul, the Coordination of Collectives in Solidarity with Pınar Selek welcomes the continuing mobilisation, as well as the many initiatives taken not only in France and Turkey, but also in Switzerland, Belgium, Germany and elsewhere in Europe.
This solidarity takes many forms: public readings of novels, short stories or other texts by Pinar Selek ; petitions or joint statements demanding that Pınar Selek and all the victims of Erdogan's regime finally be freed from the false charges against them ; protests and university resolutions in defence of academic freedom ; a poem written in tribute to Pinar Selek ; letters and statements by leading figures in the literary world, publishing houses and bookshops ; feminist manifestos ; fund-raising ; and the decision by many leading figures – lawyers, jurists, elected representatives, journalists and NGO activists – to attend the new court hearing in person.
Unfortunately, Pınar Selek is not the only one threatened by the Turkish authorities. Thousands of feminist and peace activists, many of them Kurdish, including academics and members of parliament, are languishing in Turkish prisons today. We demand justice for all of them.
Pınar Selek has become a symbol of the threat to the freedom to think, research, express oneself, write and act. These are the very foundations of democracy. This is why, at a time when Turkey is reaffirming its interest in joining the European Union (NATO Summit in Vilnius on 11 July 2023), it is more essential than ever to demand that the Turkish justice system definitively acquits Pınar Selek and frees her from the burden that has weighed so unfairly on her for over 25 years.
The Coordination, strengthened by the participation of numerous elected representatives and the support of European parliamentarians, reiterates its request to the French government to affirm its full support for the sociologist, its refusal to extradite her and its effective commitment to ensure her protection. It reiterates its request to the President of the Republic to intervene with the Turkish authorities on behalf of Pınar Selek and all the other victims of this case. Ankara's obstinacy is leading to a denial of justice. It asks France to coordinate with the other European countries and to encourage them to refuse to apply the international arrest warrant against Pinar Selek and thus allow her to travel freely.
If you would like to make a financial contribution to help us expand our campaign, don't hesitate – small rivers make big ones! Send your contribution, however small, to https://www.helloasso.com/associations/karinca/formulaires/1
If you have an idea for an action or would like to join a collective to express your indignation, please write to .
Would you like to join the delegation going to Istanbul? Let us know straight away by writing to . We will give you all the details you need.
Justice for Pinar Selek! We will always be with Pınar Selek and against all forms of domination.
Coordination of Collectives in Solidarity with Pınar Selek